AT PREMIER SUBARU, WE CARE ABOUT THE COMMUNITIES IN WHICH WE SERVE
Premier Subaru Watertown has a history of giving back to the communities in which we serve. Since 2000, the ownership of Premier Subaru Watertown has had a strong commitment to "give back" to the community and ensure that we "pay it forward".  This financial commitment has ranked us among the highest in charitable contributions in our peer group.  We are proud of this commitment and will continue to do what we can to support the communities in which we serve.
As part of the Subaru Share The Love Event 2019, Premier Subaru Watertown presents a check for $22,980 to the Boys & Girls Club of Greater Waterbury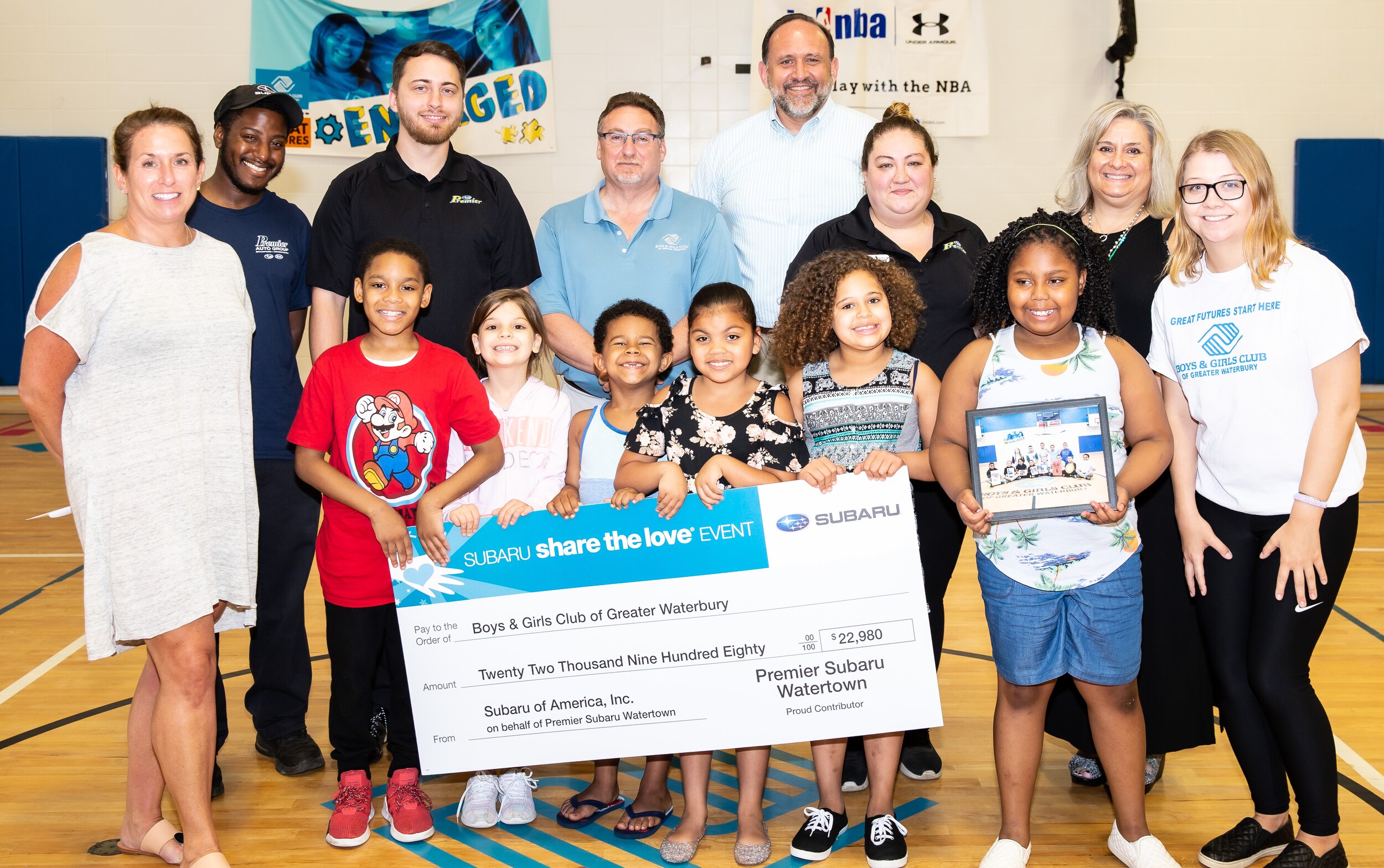 Meals on Wheels Western Connecticut
April 2019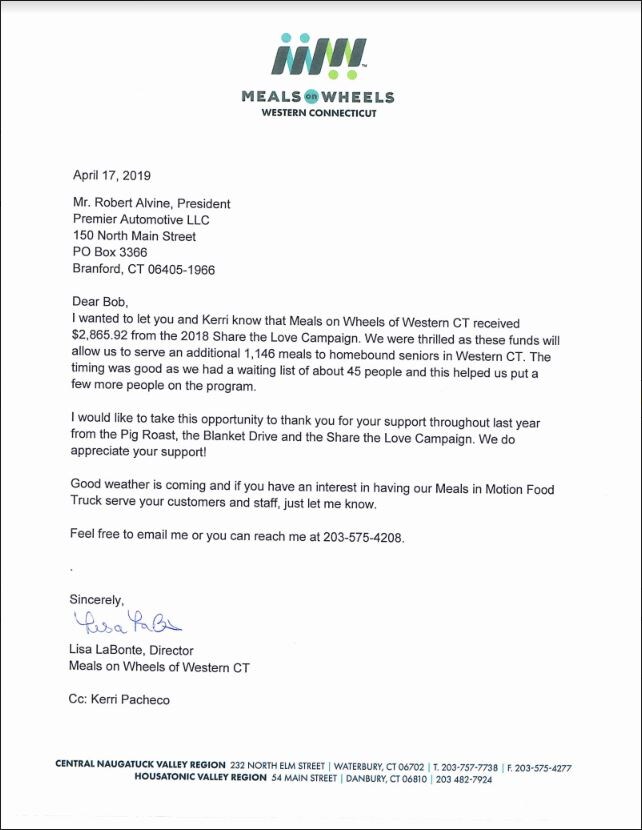 West Haven Family Resource Center
December 2018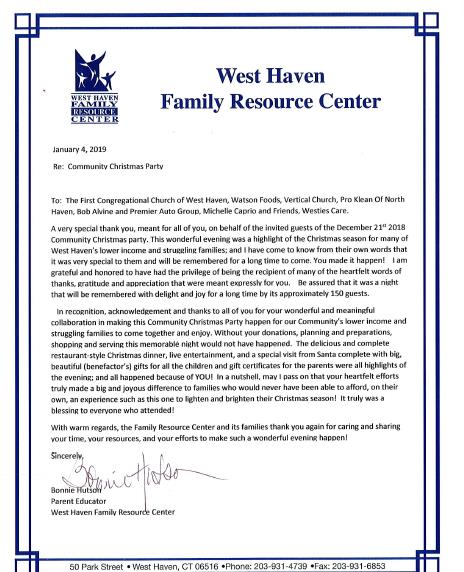 In May 2018, Premier Subaru Presented a Check For $53,553 to Camp Rising Sun for the 2017 "Share The Love" Campaign, resulting in a total of more than $200,000 over the last 4 years.
---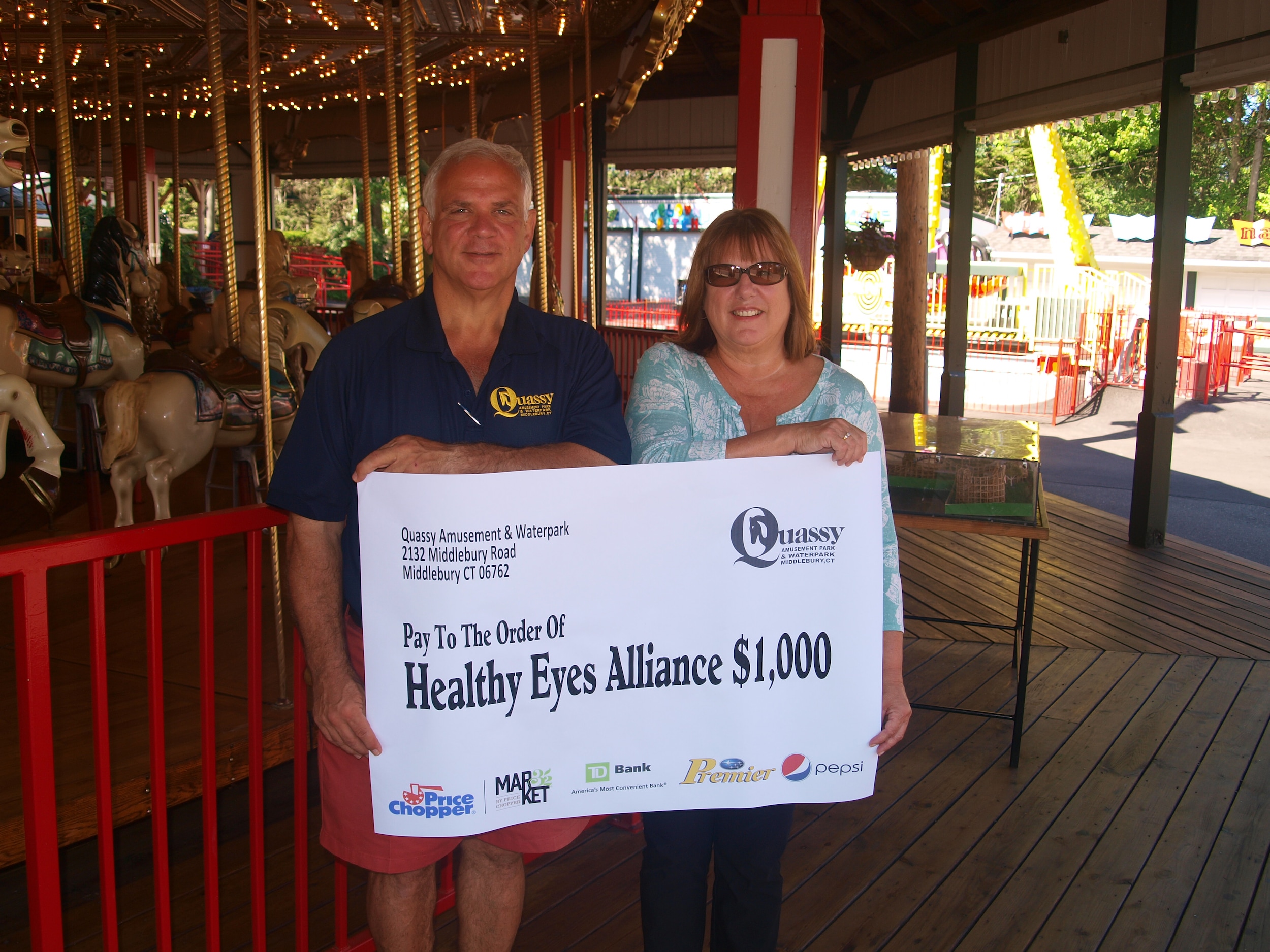 HAVING A BLAST FOR A CAUSE
Quassy Amusement & Water Park, Middlebury, Conn., presented a spectacular 3-D Fireworks display on July 4, 2016, with special viewing glasses for the nighttime event sold for only $1. Proceeds from the glasses sale benefited Healthy Eyes Alliance, and on July 20, Quassy presented a check for $1,000 to the organization. Accepting on behalf of Healthy Eyes Alliance was Naomi Hayner, program manager, with Quassy's George Frantzis II presenting. 
Healthy Eyes Alliance's goal is to put an end to preventable and treatable blindness through early detection, free access to vision care (eye exams, glasses, surgery-if necessary) and public education. It operates in Connecticut, New York and New Jersey, with this donation being targeted to Connecticut. Presenting partners in the fireworks spectacular were Premier Subaru of Watertown, Price Chopper supermarkets, TD Bank and Pepsi. Media partners were Voices newspaper and WTNH Channel 8. (Photo courtesy of Quassy)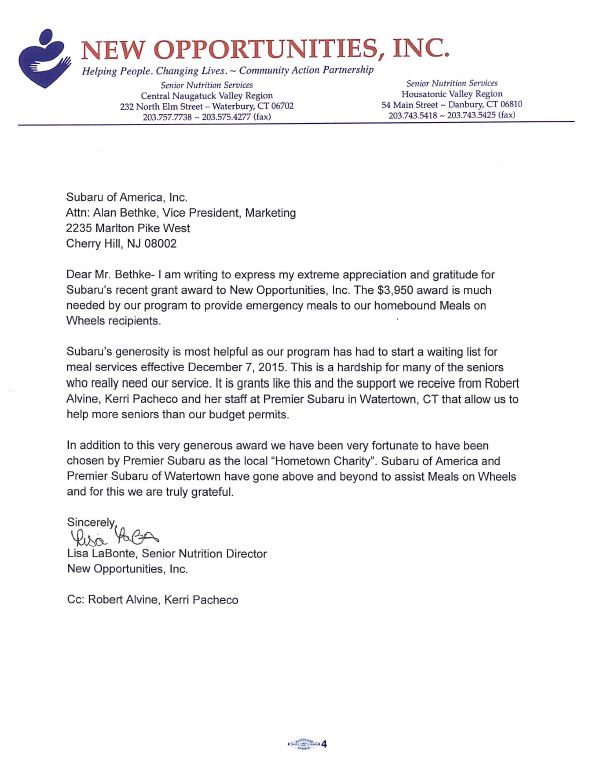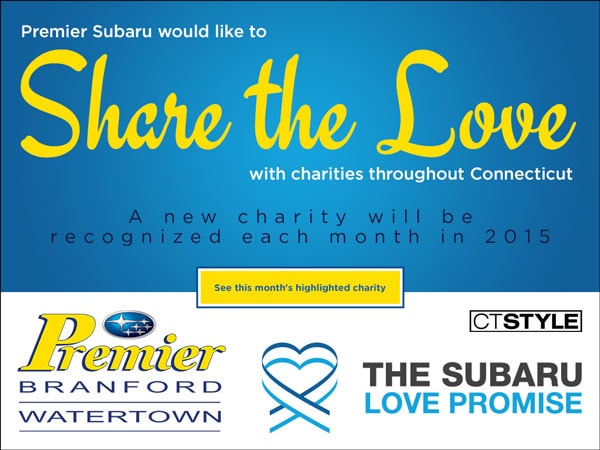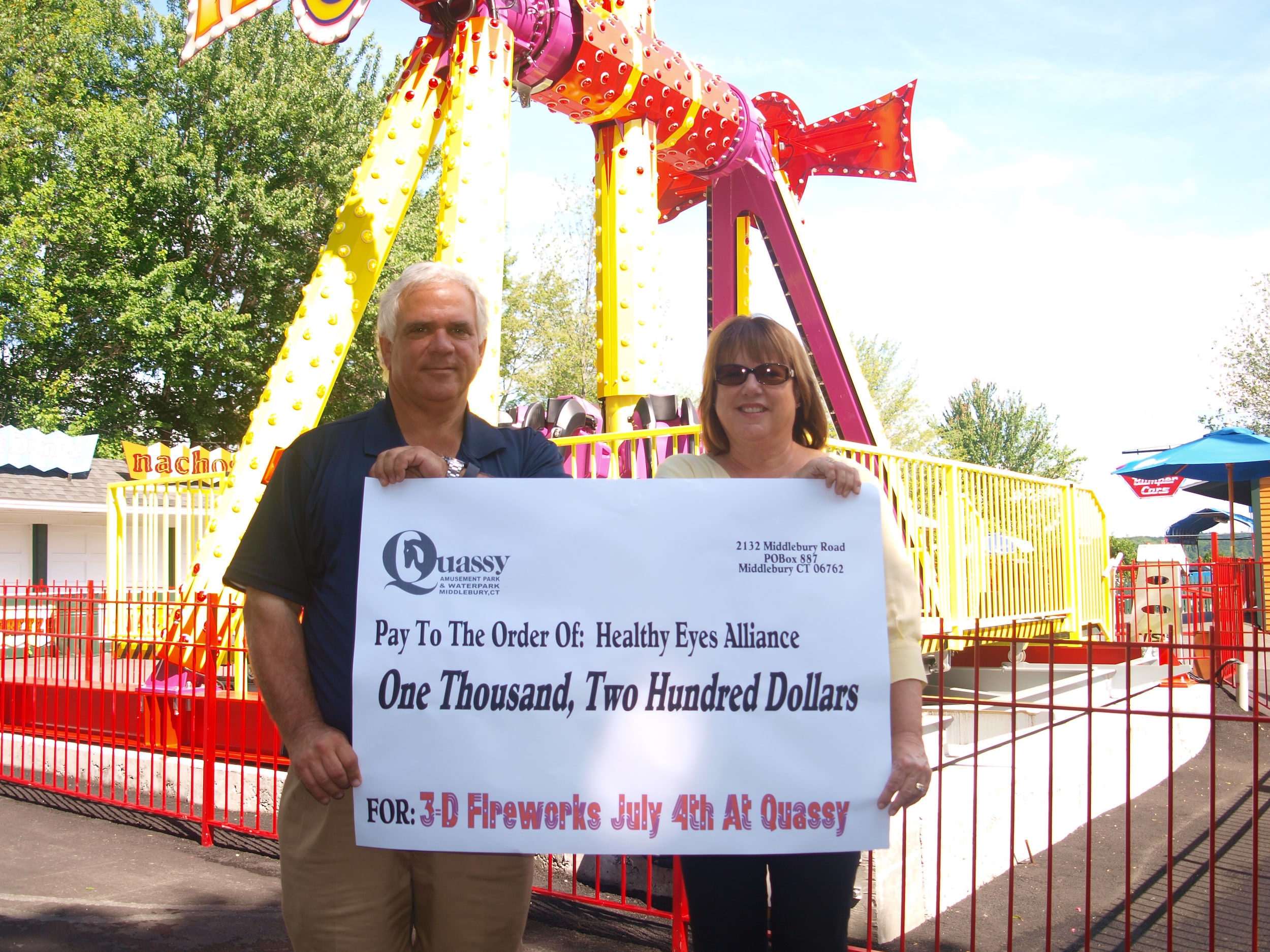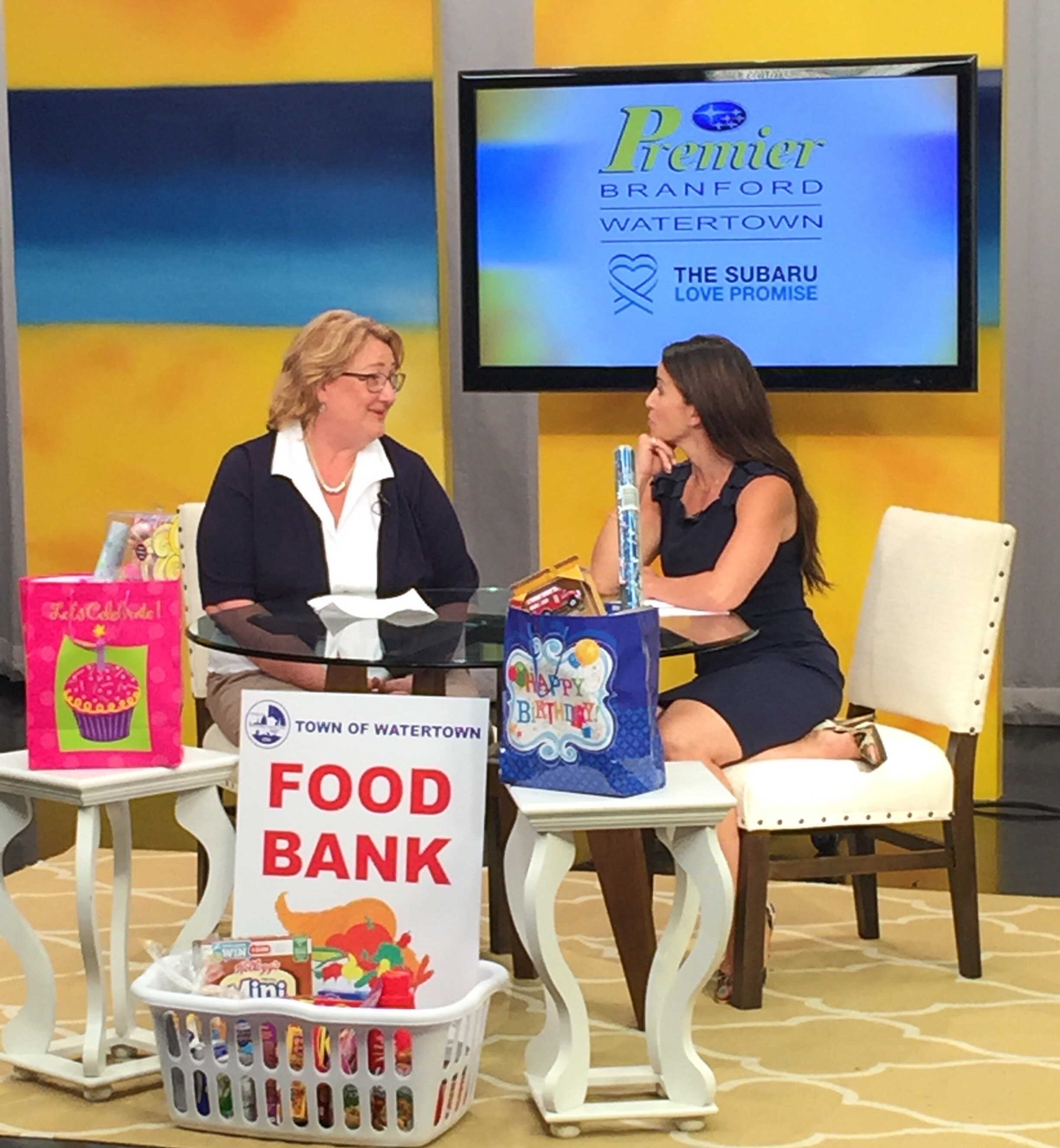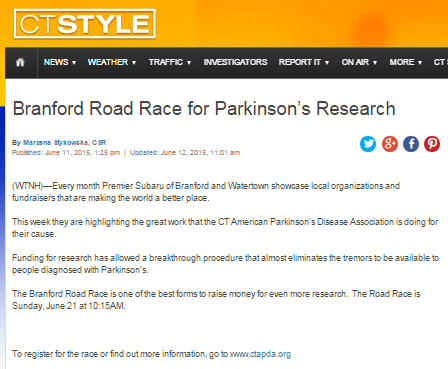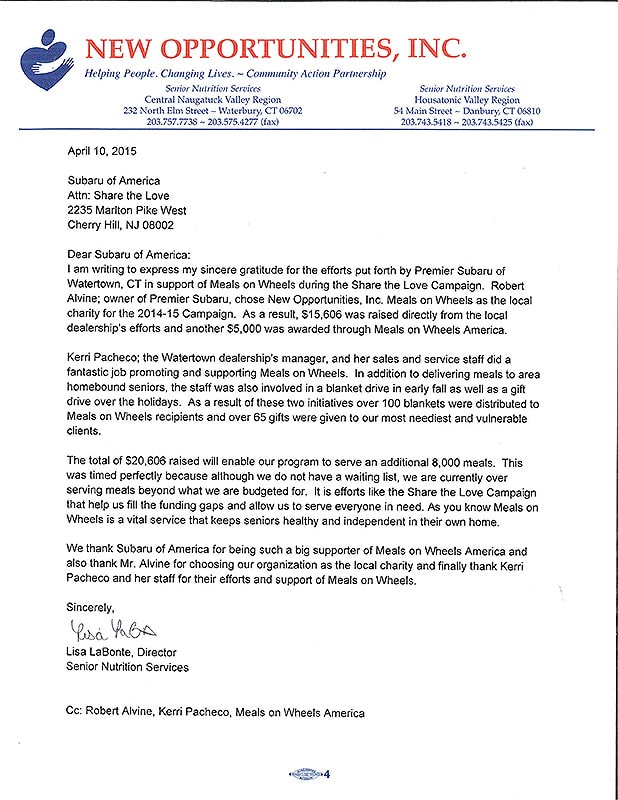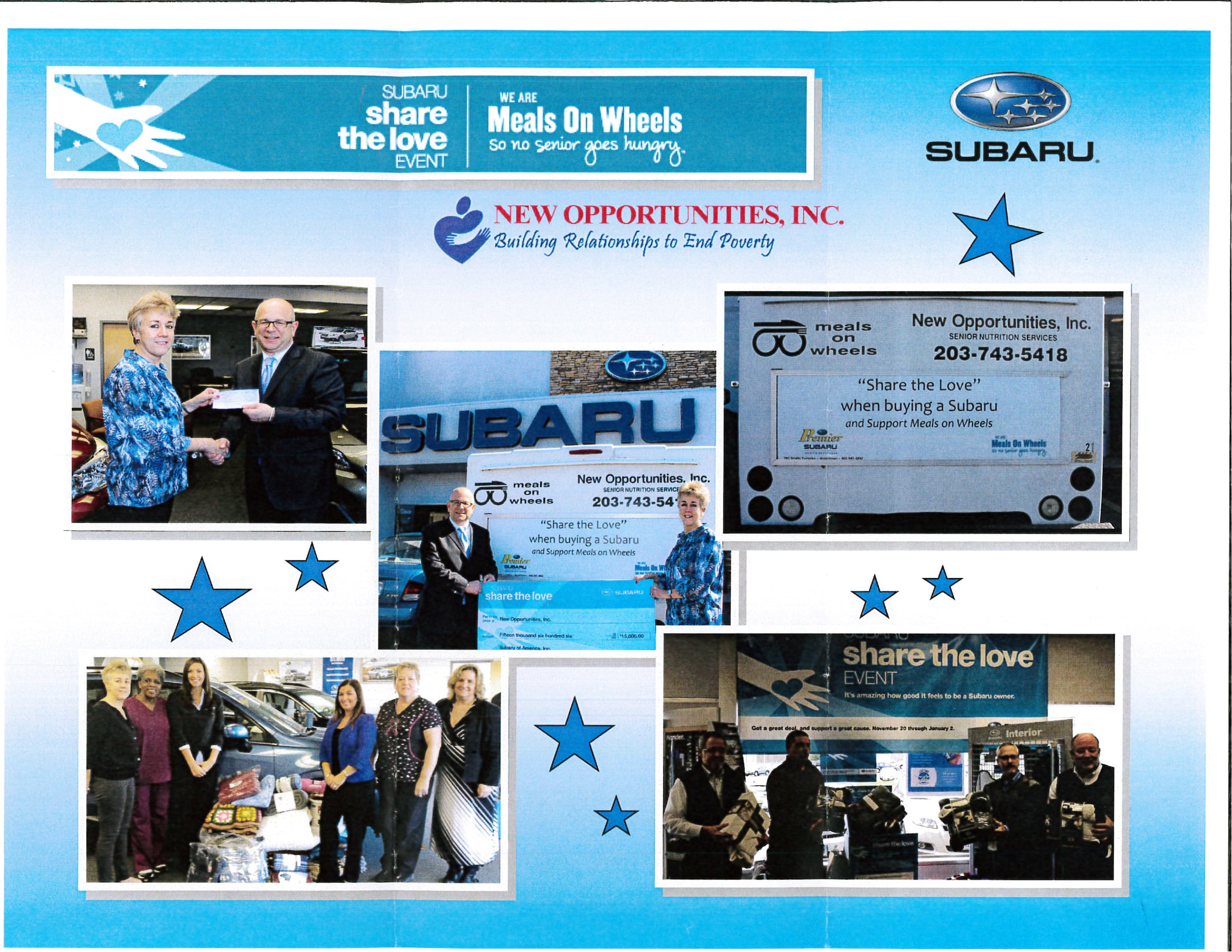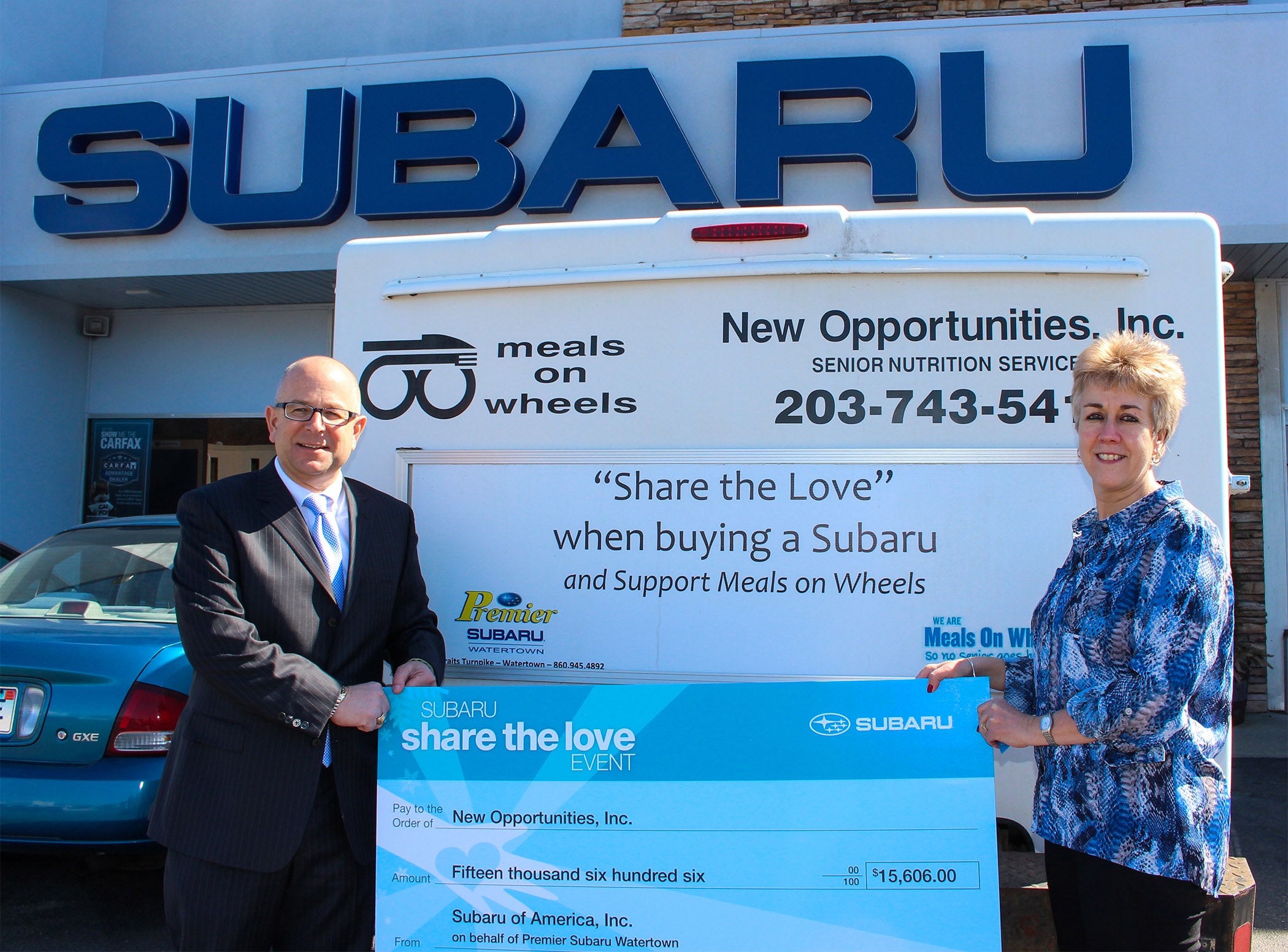 PREMIER SUBARU WATERTOWN PRESENTS A CHECK FOR $15,606 TO NEW OPPORTUNITIES AS THE "HOMETOWN CHARITY" IN THE 2014 "SHARE THE LOVE" CAMPAIGN
Watertown, CT, March 24, 2015 - President Robert J. Alvine, Premier Subaru Watertown, presented Lisa LaBonte, Director of Meals on Wheels for New Opportunities, Inc., with a check for $15,606 this afternoon in the dealership's showroom in Watertown. The donation represented the proceeds from the seventh annual "Share the Love" event, in which anyone that purchased or leased a new Subaru could make a $250 donation to one of four national charities - ASPCA, Make-A-Wish Foundation, Meals on Wheels Association of America, the National Park Foundation - or a fifth local charity for their customers to support. Premier Subaru Watertown selected New Opportunities, Inc. Meals on Wheels as their "hometown charity" for the 2014 campaign.
"We couldn't be happier with the support given to us by Premier Subaru Watertown. We were thrilled when Bob first contacted us about the possibility of participating. Our organization relies heavily on the generosity of those in our community. And a donation of this size will go a long way in helping those in need throughout the region," said Ms. LaBonte.
"New Opportunities is just the type of local organization that we love to partner with and provide support for during the Subaru "Share the Love" Campaign. Lisa and her people do such a great job providing a hand up to the community in need," commented Mr. Alvine. "I'd also be remiss if I didn't acknowledge all of the customers who bought or leased a new Subaru during the campaign, and designated New Opportunities Meals on Wheels as the charity of choice for their donation."
"Share the Love" ran from Nov. 20, 2014 to Jan. 2, 2015 and was expected to donate up to $15 million over the course of the campaign nationwide. In the last six years, Subaru of America has donated over $35 million to different charities.
New Opportunities, Inc. is a community action agency that serves 27 towns in the Greater Waterbury area, including Meriden, Torrington, Danbury, and Thomaston. More than 70,000 individuals benefit from these programs on an annual basis. Programs include Child Welfare and Family Services, Education and Support Services, Energy Assistance/Weatherization, Services for the Elderly, AIDS/HIV Prevention, and more.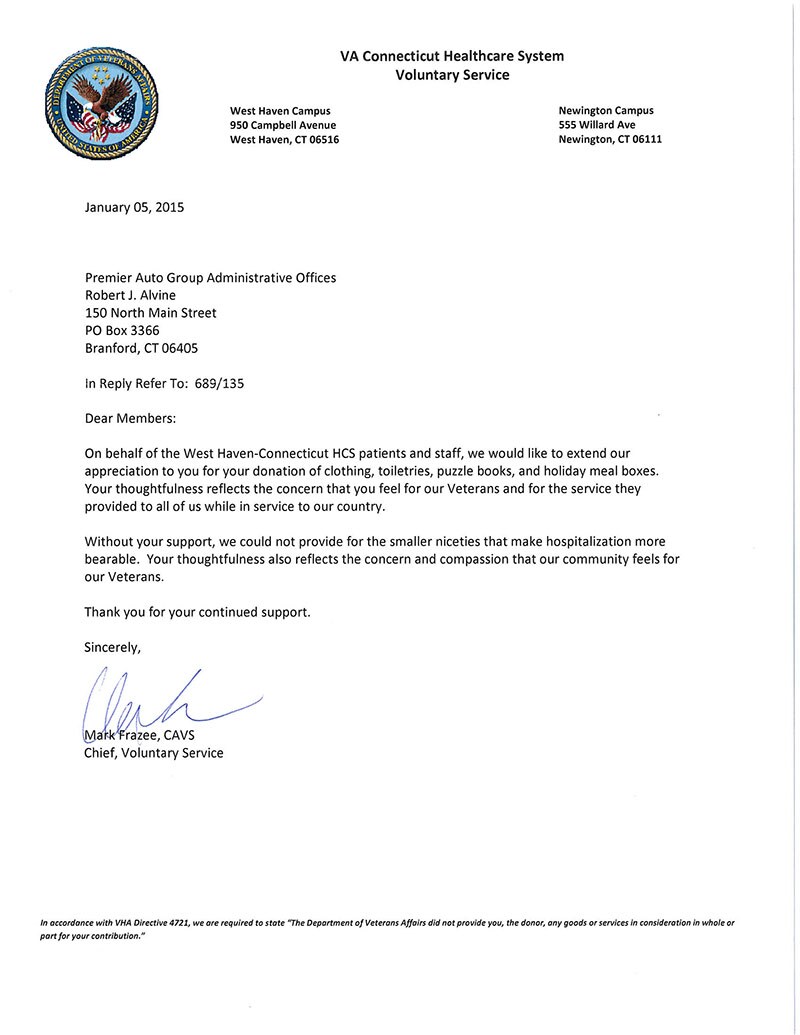 Premier Subaru Watertown was recently featured in the January 2015 New Opportunities Inc. Senior Nutrition Services Newsletter!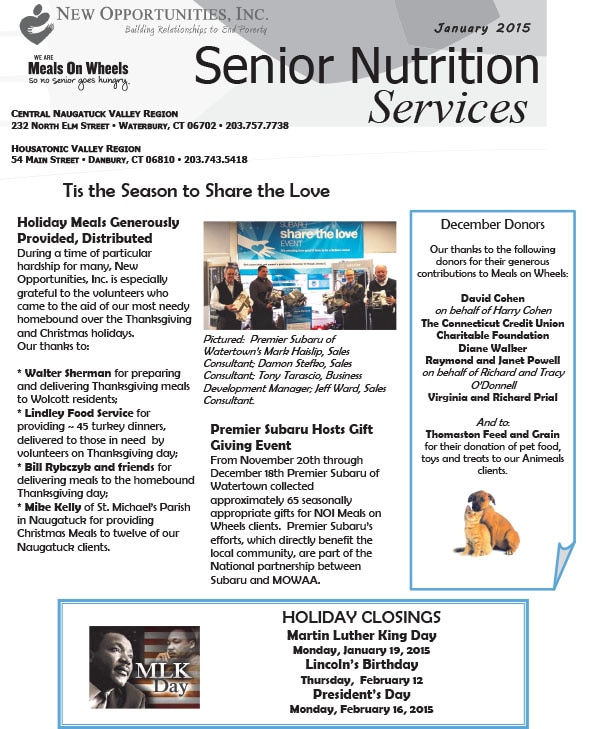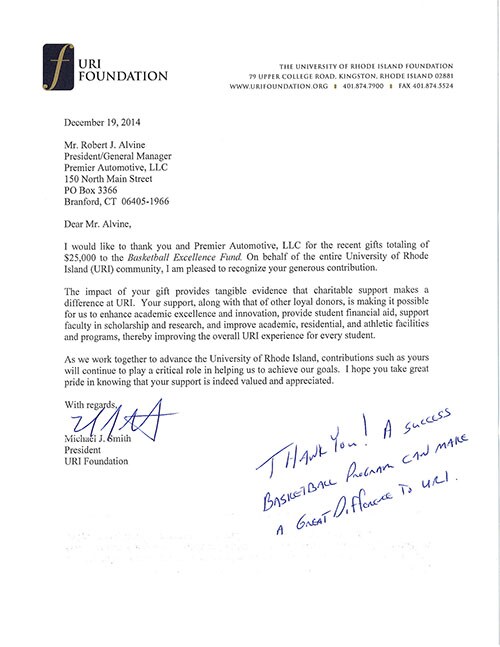 NEW OPPORTUNITIES, INC MEALS ON WHEELS WILL TEAM UP WITH PREMIER SUBARU IN WATERTOWN TO "SHARE THE LOVE" WITH AREA SENIORS IN NEED
WHO:               In celebration of the seventh annual Subaru "Share the Love" event, Premier Subaru of Watertown will be hosting a "Stuff the Trunk" event where Premier will be accepting new holiday gifts for homebound seniors who are recipients of Meals on Wheels. Gift suggestions include blankets, throws, slippers, warm socks, gloves, postage stamps, pharmacy gift cards. Approximately 15% of New Opportunities'650 Meals on Wheels recipients are alone and without family during the holidays.
WHAT:              As part of a national partnership with the Meals On Wheels Association of America, Subaru will donate $250 to the purchaser's choice of participating charity - one of which is Meals On Wheels - for every new vehicle sold or leased from November 20, 2014, through January 2, 2015. By the end of this, the seventh "Share the Love" event, Subaru will have donated $50 million to charity - including the delivery of one million meals to seniors in need. For more information, visit www.subaru.com/share.com. 
WHERE:           Premier Subaru of Watertown
                        Straits Turnpike
                        Watertown, CT 06795
                          (866) 754-0157
WHEN:             Help Fill the Trunk with Holiday Gifts from November 20th- December 18th, 2014
VISUALS:         http://youtu.be/eoGpq6eG9zs Please help us win additional grant money by watching this video of Premier Subaru staff delivering meals to homebound senior recipients of Meals on Wheels.