The 2020 Subaru Love Promise Community Commitment Award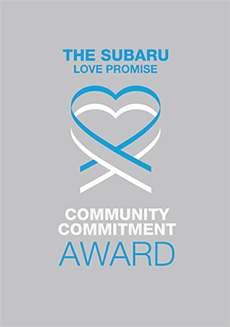 We've been nationally recognized for our dedication to our community and the Subaru Love Promise.
We're honored to receive the 2020 Subaru Love Promise Community Commitment Award. This award nationally recognizes Subaru retailers who are making the world a better place while demonstrating an outstanding commitment to supporting passions and causes in local communities. These efforts are focused in important areas such as the environment, community, health, education, and pets.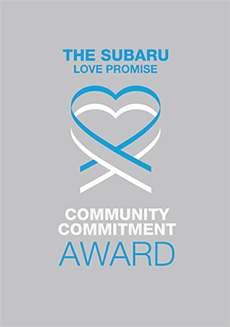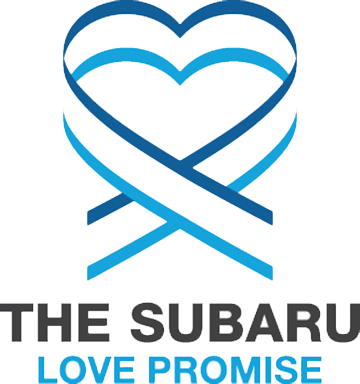 What is the Subaru Love Promise?
Subaru and our retailers believe in making the world a better place and the Subaru Love Promise is our vision of respecting all people. This is our commitment to show love and respect to our customers and to work to make a positive impact in the world.
How is Premier Subaru Watertown dedicated locally to the Love Promise?
Premier Subaru Watertown is committed to the communities in which we serve. Community involvement and "paying it forward" is in the fabric of our organization. Our team of employees live in the communities in which we serve. We seek to be a good corporate neighbor and enrich the lives of the people we touch. We are proud to be an active member of the Watertown and Greater Waterbury Community.
University Of Rhode Island, University of New Haven, Edith B. Jackson Childcare
Jane Doe No More, New Opportunities, Inc., Jazz on the Green Series, Watertown Chamber of Commerce, Greater Waterbury Chamber of Commerce
American Cancer Society, Camp Rising Sun, Yale New Haven Childrens, Harold Leever Cancer Center
Love Promise Stories from Premier Subaru Watertown
Subaru and Premier Subaru Watertown believe in making a positive impact on the communities in which we live and work. We uphold that belief through our Love Promise Community Commitment. Every month, we select inspiring stories from customers and partners from around our area who strive to support our collective commitment and feature them here
Patient Story From The CT Cancer Foundation - Kerri P
As a part of Premier Subaru Watertown's Share The Love Campaign, Premier Subaru is supporting The Connecticut Cancer Foundation, by contributing $250 for every new Subaru sold from Thanksgiving to New Years. As a part of this program, Premier Subaru adopted a family to specifically assist. Joy is a 46 year old single mother of a 9 year old son, Lucas and, adopted 15 year old daughter, Olivia, from Torrington, CT. Lucas is in the 4th grade and Olivia, a high school student, is in a special education program for autism and ADHD. Joy was working as a Home Health Aid for mental health clients until the COVID19 pandemic and everything closed down. She has been unable to work since May, 2020. In July, Joy was diagnosed with breast cancer and most recently neuroendocrine cancer. She had a double mastectomy in October and, is beginning treatment for the newly diagnosed cancer. She has been living on her daughter's monthly disability check. Premier Subaru Watertown is proud to have adopted Joy and her family for our Share the Love program - specifically. This includes providing Joy and her family a full Christmas and ensuring that we provide them with gifts, food and gift cards to make their holiday season a bit brighter. We are proud of the efforts of The Connecticut Cancer Foundation and, looking forward to continuing to assist Joy, her family and, the other families devastated by cancer.
---
CT Cancer Foundation helped by Premier - Kerri P
Premier Subaru Watertown of Watertown, CT announced its participation in the 2020 Subaru Share the Love® Event and selected The Connecticut Cancer Foundation as their hometown charity to be added to the list of organizations that customers can select to receive a Subaru Share the Love Event donation. The Subaru Share the Love Event will run from November 19, 2020 to January 4, 2021 and allows Subaru retailers the opportunity to select charities operating in their community to be included in a list of organizations that new owners can select from to receive a $250 donation from Subaru of America, Inc. (SOA). For a fifth year in a row, there will be no cap on the total donation from SOA to its Subaru Share the Love Event charitable partners. At the culmination of this year, SOA and its retailers hope to exceed a grand total of $200 million donated since the creation of the Subaru Share the Love Event. The mission of The Connecticut Cancer Foundation is to provide financial assistance to Connecticut cancer patients and their families and to fund cancer research. It was founded by John Ellis, a former catcher for the New York Yankees, Cleveland Indians and Texas Rangers in 1987. More information about The Connecticut Cancer Foundation can be found on their website at www.ctcancerfoundation.org.
---
Thank you - Nicole F
We are so grateful for Premier Subaru helping us help them! Thanks to Premier Subaru of Watertown, BARC-CT was able to rescue and help many dogs in need. Sweet Pea is one of the many dogs who was in desperate need of our help. Sweet pea was found as a stray and resided at the pound for months. She was in desperate need of medical care. Her skin was raw and bleeding, she was completely overbred and shortly after we took her in she needed emergency surgery for pyometra. Shortly after her surgery she was diagnosed with a condition in her trachea that was affecting her breathing. This poor girl had been through so much. Today, Sweet Pea is on the mend and thriving! She is as happy as can be, so loved and truly living up to her name! Attached are before and after pictures of sweet pea. Thank you Premier Subaru and Kerri Pacheco for choosing us as recipients of this much needed, generous donation! With your donation we were able to help sweet pea as well as many other dogs in need. We are so grateful for your help especially during what has been such a tough year.
---
Sharing The Love with our Community's Youth! - Kerri P
In an ongoing support of our Share The Love local giving, Premier Subaru Watertown presented the Girls & Boys Club of Waterbury with a check of over $22,000 to support local youth in need of after school programs and a safe place to go during school breaks.The students pictured made us a heart-warming thank you sign to show their gratitude!!! These programs are the life blood of our community and offer positive reinforcement when so desperately needed!!
---
Warming the Community! - Kerri P
For the fifth consecutive year, Premier Subaru Watertown was proud to support and donate to the Warm Someone's Heart Blanket Drive through the Waterbury Chamber and Young Professional's Members. Our employees and Subaru owners came together, as they do every year, with enough new blankets to fill the entire back of a brand new Subaru Crosstrek!! We started this as a part of our ongoing support of Meals on Wheels in our community and the reach has grown to include seven major area community resources that assist the needy and homeless within our local towns. We are proud to be a part of the solution in our local community!!
---
Sharing the Love at Watertown Food Bank - Brian C
During the month of November, Premier Subaru Watertown began "Sharing the Love" a little early, collecting food and other items for the Watertown Food Bank, a department of the Watertown Parks and Recreation Human, Social, and Leisure Services Group. The Food Bank conducts a mobile food pantry that regularly provides food for those in need in the Greater Watertown area. Lisa L Carew, the Director of the Parks and Recreation Department, stated that Premier Subaru has always been a great "friend" to the Watertown Food Bank. "Your large donation of food will help support our ongoing assistance programs and services. Because of your generosity, we are able to provide so much more for those in our community who are in need.
---
Having a Blast for a Great Cause - Brian C
The Quassy Amusement & Water Park, Middlebury, Conn., presented a spectacular 3-D Fireworks display on July 4, with special viewing glasses for the nighttime event sold for only $1. All proceeds from the glasses sale benefited Healthy Eyes Alliance, and on July 20, Quassy presented a check for $1,000 to the organization. Accepting on behalf of Healthy Eyes Alliance was Naomi Hayner, program manager, with Quassy's George Frantzis II presenting. Healthy Eyes Alliance's goal is to put an end to preventable and treatable blindness through early detection, free access to vision care (eye exams, glasses, and surgery if necessary) and public education. It operates in Connecticut, New York, and New Jersey, with today's donation being targeted to Connecticut. Presenting partners in the fireworks spectacular including the Premier Auto Group in Watertown, Price Chopper supermarkets, TD Bank and Pepsi. Media partners were Voices newspaper and WTNH Channel 8. (Photo courtesy of Quassy)
---
Premier Subaru supports Amistad Academy Elementary - Kayli T
Premier Subaru has been sharing the love with the local community for over 15 years. This month Premier Subaru is sharing the love with Amistad Academy Elementary School in New Haven. Isaac Parker, a tremendous employee of our organization, has two amazing children at Amistad, Kyla and Jason Parker. Premier believes that the children are our future, and Amistad has proven to build an important foundation in learning.The school's main goal is to prepare students for college. Amistad Academy Elementary opened in 2006. Since the opening of the school, the students have shown the necessary skills to succeed in college, career, and life. Premier Subaru is proud to honor Amistad Academy this month with their "love promise". â¿¿Highlight and right click the following link to see our Love Promise in action: http://ep-lin-upload.s3.amazonaws.com/captures/D66/CAB/D66CAB1FDF624DD2A30AEB4B7777C2C8.mp4
---
Premier Subaru supports the Watertown Food Bank - Kayli T
The ownership of Premier Subaru Watertown has a history of giving back to the community since 2000. Premier is very proud to support the Watertown community. Every month, Premier Subaru Watertown partners with a local organization to raise and donate money towards a great cause. During the month of July, Premier Subaru Watertown is promoting the Watertown Food Bank at their dealership. The Watertown Food Bank serves those in need from Watertown to Oakville. Premier Subaru has donated a generous $500 and is hosting a food drive for the duration of July. Premier Subaru Watertown is now accepting all donations for the Watertown Food Bank. Some suggestions include: canned vegetables, canned meats, cereals, laundry detergent, paper products (kitchen and bath) and soups. The Watertown Food Bank has also hosted a new beginnings program, sponsored by surrounding churches; filling backpacks with school items for children right before the start of the new school year. During the holidays, the Food Bank creates baskets for the kids and also puts together thanksgiving baskets. Also, the local Girl Scouts have helped create birthday baskets for the children. The Premier team is very excited to help assist the Watertown Food Bank again and help out the Watertown community!
---
PREMIER SUBARU WATERTOWN PRESENTS A CHECK FOR $15, - Lisa L
President Robert J. Alvine, Premier Subaru Watertown, presented Lisa LaBonte, Director of Meals on Wheels for New Opportunities, Inc., with a check for $15,606 this afternoon in the dealerships showroom in Watertown. The donation represented the proceeds from the seventh annual "Share the Love" event, in which anyone that purchased or leased a new Subaru could make a $250 donation to one of four national charities-ASPCA, Make-A-Wish Foundation, Meals on Wheels Association of America, the National Park Foundation- or a fifth local charity for their customers to support. Premier Subaru Watertown selected New Opportunities, Inc. Meals on Wheels as their "hometown charity" for the 2014 campaign. "We couldn't be happier with the support given to us by Premier Subaru Watertown. We were thrilled when Bob first contacted us about the possibility of participating. Our organization relies heavily on the generosity of those in our community. And a donation of this size will go a long way in helping those in need throughout the region," said Ms. LaBonte. "New Opportunities is just the type of local organization that we love to partner with and provide support for during the Subaru "Share the Love" Campaign. Lisa and her people do such a great job providing a hand up to the community in need," commented Mr. Alvine.
---
Premier Subaru Supports Meals on Wheels Program of New Opportunities Inc. - Lisa L
Premier Subaru of Watertown continued to "Share The Love" in support of the Meals on Wheels Program of New Opportunities Inc. in October as they served as a collection point for the Waterbury Regional Chamber's Blanket Drive. The drive, which benefited Meals on Wheels, Salvation Army, St Vincent De Paul Homeless Shelter and Greater Waterbury Interfaith Ministries, was spearheaded by the Chamber's YPOWR (Young Professionals) Group. In addition to donations from the public and their employees, Premier Subaru collected an abundant amount of blankets from Urology Associates in Middlebury and Thrivent Financial in Bristol. Photo: From left to right: Lisa LaBonte; New Opportunities, Inc., Cynthia Whidbee; Urology Specialist, Julia Weston; Thrivent Financial, Courtney Ligi; Waterbury Chamber YPOWR Program Director, Muriel Mastrianni; Urology Specialist, Kerri Pacheco; Premier Subaru.
---
Premier Subaru and Premier Subaru Watertown Sponsors Susan G. Komen Breast Cancer Foundation - Barbara M
Premier Subaru and Premier Subaru Watertown have been a proud sponsor of the Susan G. Komen Breast Cancer Foundation. During the month of October, Premier is making a pledge to donate $1 for every 'Like' received on each of our Facebook Pages to Susan G. Komen. Susan G. Komen was founded in 1982 with a simple promise to end breast cancer forever, through research, public education, and health screening. Susan G. Komen is world-renowned based on their logo shown here. Premier Subaru and Premier Subaru Watertown thank everyone for their support!
---